It's been a busy first 2 weeks in our garden since our first Grow Food Calgary class on April 22. In the first 2 weeks since the class ended, I've created a small indoor garden area in front of 2 large west-facing windows in my kitchen where I'm nurturing 2 kale seedlings destined for transplant outdoors, experimenting with pea shoot and wheatgrass microgreens, and growing basil, cilantro and dill. My kids have 2 sunflower seedlings also growing in the window sill which are destined for transplant outdoors, too.
We have created a second garden plot along the north side of our backyard which is south-facing and gets lots of sun, as well as livened up the soil in our existing garden plot on the south wall of our house by mixing in some nearly finished compost, topped it up with garden soil, and covered with leaves and grass clippings. We've planted some shallot sets, garlic, carrot seeds, beet seeds, jerusalem artichokes, and Linzer Delicatess fingerling potatoes in our existing plot, and a few rows of lettuce seeds in our new plot. We have 2 Root Pouches on the rocks beside our new garden plot which contain Blue Mac, Agria and Russian Blue potato varieties.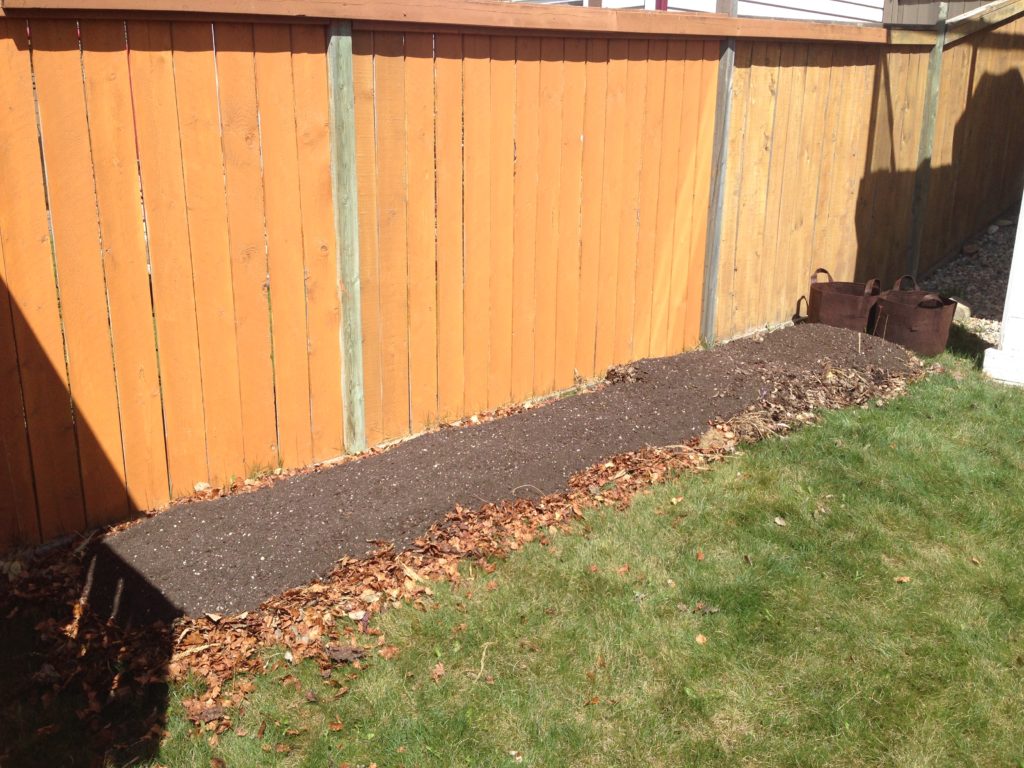 Our First Class
All of this activity was spawned by the things I learned in my first Grow Food Calgary class. In this post, I'll talk about the concepts that influenced me the most.
We received a number of goodies at our first class which I've used in this first 2 weeks: Renee's Lettuce Babies seeds, seed potatoes from Eagle Creek Farms, Root Pouches, Donna Balzer's No Guff Gardening book, starter size of Worm Castings from Chelsie's Gardens, transplanted pea and basil plants, 2 starter kale seedlings, kale, lettuce and tomato seeds from Donna Balzer, and a small container of planted pea seeds that I am trying to grow as microgreens.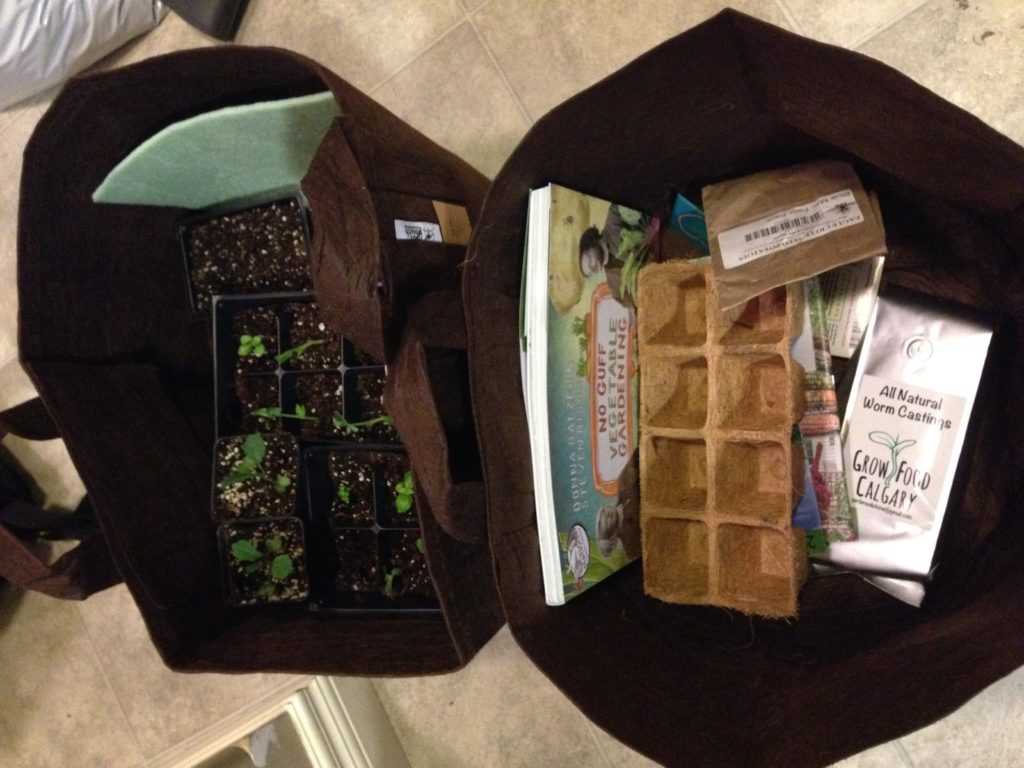 Soil vs. Dirt
In the first session, we learned to differentiate between dirt and soil. Soil is living, full of beneficial microbes and nutrients and minerals. Without living, beneficial organisms, we simply have dirt. A lot of "soil" mixes sold at stores say they are sterilized, which means that they have been treated in some way to kill off all the living things in the soil. These types of "soil" would not support as successful growth as a living soil that has had biological matter such as finished compost and worm castings (worm "poo" which contains beneficial bacteria and nutrients). The main message I heard during this session was that we should focus on feeding the soil and making it better and supportive for plant life, instead of focusing on feeding our plants. I learned that any soil can be amended to make it better, supportive of the living things growing in it. So we can start with soil that is less than optimal (theoretically we could even start with dirt!), and through careful treatment like adding finished compost, adding worm castings or compost tea (the liquid drippings from a worm compost), and even planting green manure (sort of "throw away") plants on the off-season that concentrate sugars in their roots and sustain microbes already in the soil, or fix nitrogen, and can be tilled into the soil to function as organic matter, we can incrementally make the soil better.
It became very clear what a difference healthy soil can make on plant health and growth. Chelsie showed us photos of plants from last season grown in different soils. Two of the same type of plant had been planted on the same day and subjected to the same environmental conditions. One was grown in Chelsie's regular garden soil that had been continually amended while the other plant was grown in a commercially-available "gardening soil" purchased from a large garden supply outfit or a big box store. The plants in the commercially-available gardening soil had thinner stalks, were paler, and one type of plant didn't even fully develop by the end of the growing season when compared to the plants grown in Chelsie's amended soil.
We talked about Chelsie's concept of "natural gardening", and there was a focus on how it is unnecessary to use chemical treatments and additives (like fertilizers, as an example) to make a garden successful, and that many of the horticultural methods we have come to believe are necessary, were only made so when large-scale farming became the norm. In our personal gardens, it is possible and optimal to utilize natural methods of feeding the soil to grow healthy plants. This way of thinking is really opposite to the way most of us have been socialized. Even yesterday, a friend told me she felt it was time again to change out the dirt in her garden pots and planters because the dirt had been exhausted and was not longer supporting good growth. I told her I'd learned that instead of continually throwing out the base and replacing with totally new soil, she could instead focus on amending the existing soil to restore life to it, and make it more supportive of good plant growth.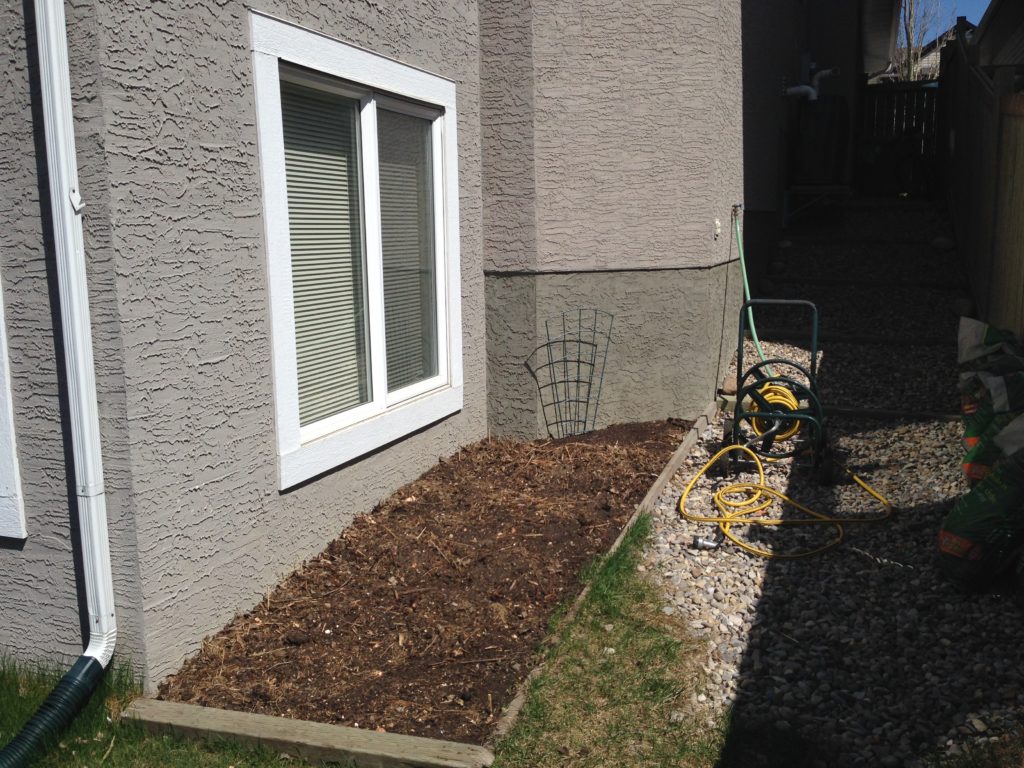 True Reuse and Recycling!
One of the repeated themes through the first session and in the reading I've been doing in Donna's book is the value of finished compost for amending soil. Typically, browns (grass clippings, leaves) need to be mixed in with compost in order to make finished compost. Unfortunately, because I have an inefficient outdoor composter that is hard to "turn" and freezes solid in the winter thereby arresting all biological activity for more than half the year, I was always hard-pressed to use up our many leaves bagged every fall and spring.
I want to find a way to create finished compost faster, so that I can constantly feed my soil. The allure of becoming totally "self-sustaining" with little need to continually buy more "product" from the big box stores, is extremely attractive to me. I could create finished compost faster by purchasing a better composter (one that can be turned more easily, though these can be expensive), or adding more beneficial microbes such as worm castings (but these are also expensive unless I produce my own by starting a worm farm). Speeding up the rate that I produce finished compost would enable me to consume my fallen leaves or grass clippings faster, and thus use up everything that my yard produces — with much less organic matter going to waste. I am considering setting up an indoor vermicompost (a worm farm) later in the summer so that I can more quickly work through the organic "wastes" (vegetable and fruit peelings, egg shells, etc.) that leave my kitchen, have this working even through winter when the outdoor compost is frozen, and produce worm castings to boot. I was heartened by a story Donna told about how she was going away for 5 weeks and was concerned about feeding her worms. She said they are not like "regular pets", so it's hard to explain to a housesitter how to care for them. So, in partial desperation and partially as an experiment, she decided to put a whole turkey carcass that had already been boiled for stock, and the mushy vegetables (mire poix) that accompanied it, into the vermicompost. When she returned 5 weeks later, the worms had faithfully devoured everything: only 1 bone could be found untouched!
Sobering Observations on Effects of Even Minute Amounts of Herbicides
Donna showed us a picture of a deformed tomato plant that she grew in soil that she was forced to conclude had traces of the selective herbicide clopyralid, which is used throughout rural Alberta. I cannot remember the exact details, but I believe that the soil had been amended with finished compost, where the browns (e.g. straw, hay) input to the compost was the likely culprit that had contact with this herbicide. It was sobering that traces of this herbicide had made it both through biological breakdown during composting and being diluted with existing soil, and yet could still deform the tomato plants growing in that soil. Donna later told me that soil tests measure herbicides in parts per million, so soil tests may not show an herbicide presence, whereas plants respond to concentrations of parts per billion. This was a very sobering illustration of the hidden dangers of herbicide and pesticide residues, and that even trace amounts can be carried upwards in the food chain.
Creating Our New Garden Plot
I had wanted to learn how to best create additional garden plots in our yard. I wasn't sure if we should build a large wooden frame to contain my new plot. What I learned was it's not necessary to build a planter, and that the best and simplest way to create a plot is to allow the garden plot to eventually "connect" with the soil on / under the lawn. It was suggested to me to lay some wet newspaper or cardboard on the section of lawn that I want to create the plot on, which would function as a barrier to the grass (basically kill the grass underneath the plot), but still eventually biodegrade and allow the garden soil to connect to the soil under the lawn. On top of this cardboard, layer on 6-8 inches of browns (leaves, grass clippings), followed by 1 inch of finished compost, then 2-5 cm of topsoil. I could add worm castings as desired to inoculate the mixture with beneficial microbes which, along with the finished compost, would help with the decomposition of the browns. The first year, we would plant only shallow-rooted plants like lettuces, beans, and kale (no root vegetables), and the plot would become rich, living soil over time, the thick layer of browns eventually decomposing to become part of the soil. In the second year, we should be have enough depth to plant root vegetables or otherwise use this plot as a "regular" plot.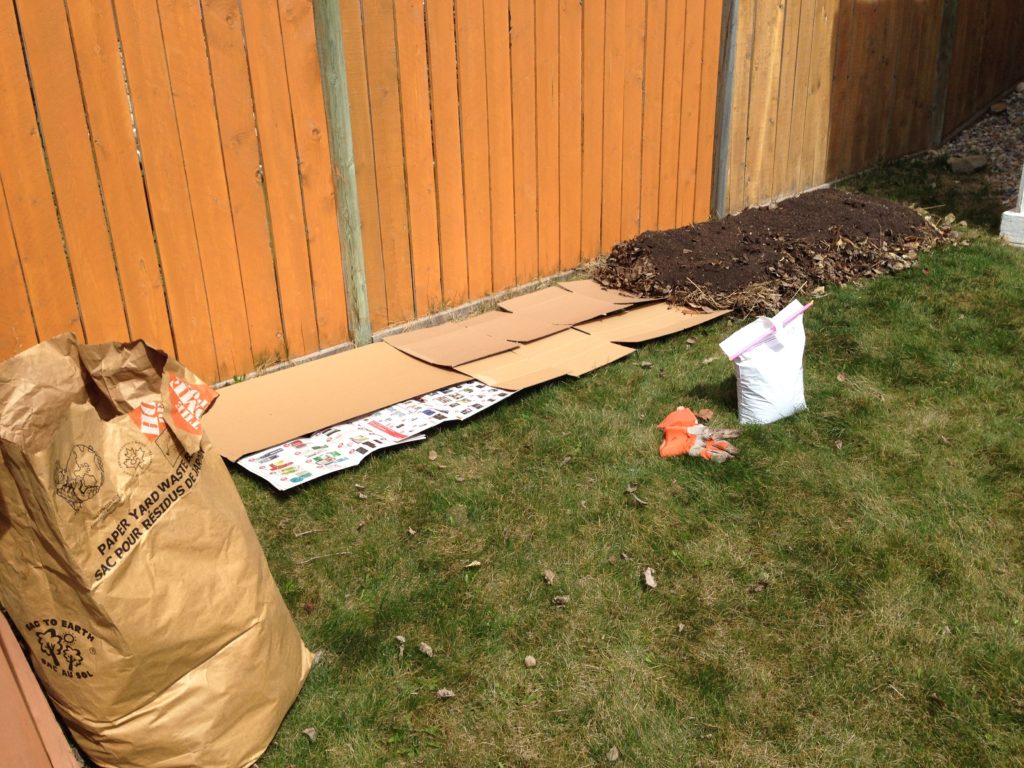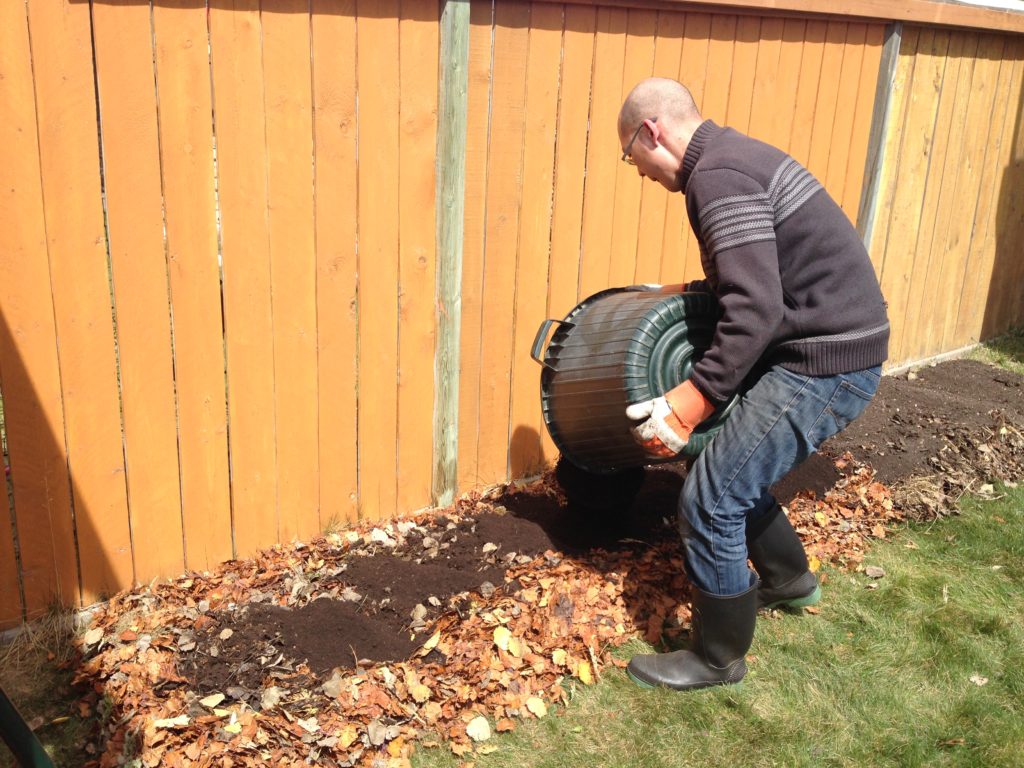 We needed to buy topsoil, and decided to source some Black Garden Soil from Eagle Lake on Chelsie's recommendation. These are the "Big Yellow Bag" people. I purchased a bag of worm castings from Chelsie, and used up nearly all of our compost from our outdoor composter. It wasn't 100% finished compost, with the odd egg shell or orange rind still showing, but it was close enough, and the beneficial microbes in it and the worm castings would, I hope, continue working and breaking down through the summer. It felt really good to be able to nearly empty our compost pile that has been breaking down more or less for 3 years. Now, just to move my future piles along more quickly!
Microgreens Experiment
The last very interesting endeavour I am working on is an tray of microgreens. I had pea shoots growing from seed that had been sowed during our first class, as well as a few lone seedlings that Donna had started and we had transplanted in the first class. Pea shoots are a delicacy in Chinese cuisine, and it is hard to find truly fresh, young, tender shoots. I decided to try to grow a thick layer of pea shoots in a new tray. I even purchased a heat mat to try to speed the germination of these peas. It took only about 1-2 days for germination with my heat mat. I am hoping to grow enough in my new tray to be able to actually make a dish of stir-fried garlic pea shoots. So far, I've only harvested some smaller bits from the original shoots from class for my lunch. Half of this sandwich was from conventional, store-bought ingredients and half from my own little indoor garden or local farmers (eggs are from free-run organic chickens and farmers we've known for 5 years). I think the lunch tasted extra delicious because I had grown a portion of it myself!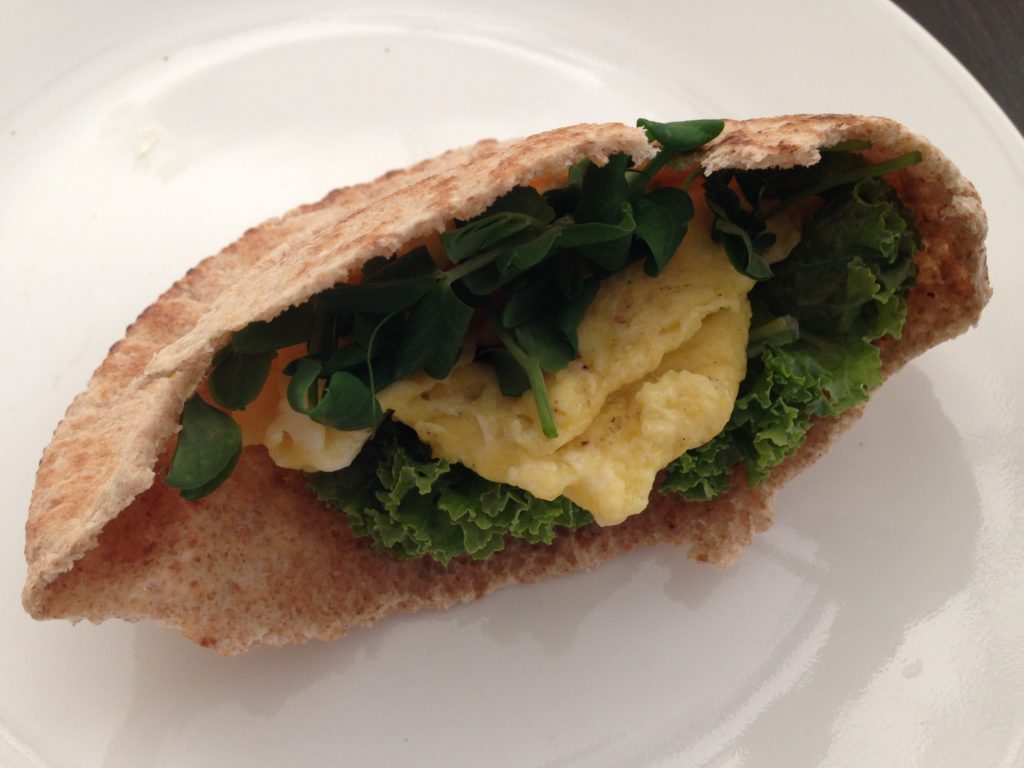 Second Class Coming Up!
Our second session is this coming weekend. I am looking forward to reporting my progress back to my teachers and my class, and getting additional feedback and questions answered, as well as learning new things. Onward!